Whilst you are reading this you may have placed yourself under self-quarantine. Or maybe you have found yourself on a desperate quest for the ever so elusive toilet roll.
Or quite frankly, maybe you are just well and truly bored and that's why you're reading this, right?
Whatever your reason is, let us take this opportunity to update you all on what we at The Waiting Game are currently up to amidst this Covid-19 outbreak.
As you must all be aware coronavirus has reached the stage where many industries are now taking steps to help contain its growth. For example, on Friday the 13th, The English Football League announced that matches will be postponed until the 3rd of April. Then on Monday The Rugby Football Union also followed suit and sin-binned its games until April 14th. Due to this we disappointingly had to cancel staff from shifts that were affected by these sporting postponements. However, we are anticipating that all these games will be rescheduled for upcoming months.
Like the large majority of the UK right now, the team are now working from home to ensure we're following the government's social distancing recommendations. We are working via team video calls, where we have the pleasure of catching sight of some questionable pyjama choices! (Cough…Cough Jake) We have also adapted our staff recruitment inductions and are instead carrying these inductions out through video link.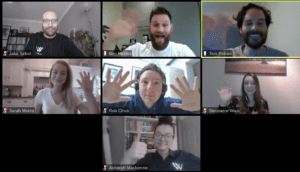 Here at The Waiting Game, with some of our events now postponed, we have a little more time on our (very clean) hands.
Therefore we have set up a new page called TWG – Together We Give
We know that this is a difficult situation for all, however, for some, it's particularly testing. This is why we're asking our staff, with our help, to assist vulnerable people who are currently self-isolating. Whether that may be through delivering food, walking someone's dog or collecting prescriptions, your help can be vital.
We're welcoming anyone to get involved, all you need to do is head here TWG – Together We Give Group and tell us what you need or how you can help! We'll then liaise with the community and arrange for our team to assist.
With this in mind and If you need more information from us, we are here, just get in touch.
Best,
TWG TEAM