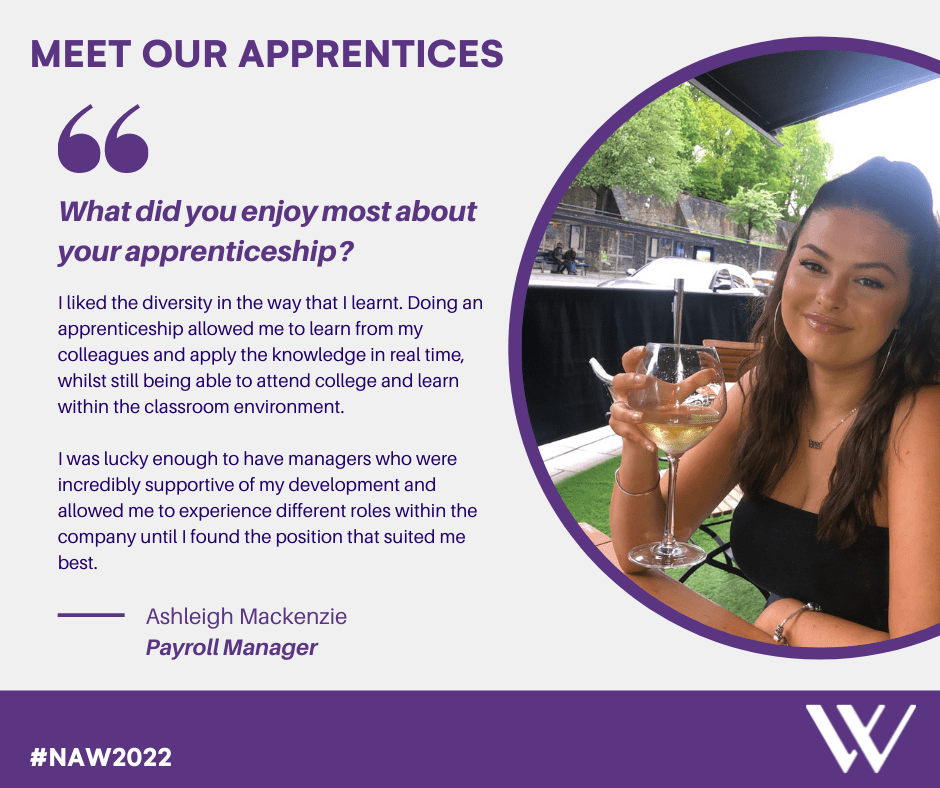 Ashleigh joined us at the start of 2019 as a Business Administration Apprentice. Since then she has gone from strength to strength, establishing herself as a core member of the team. Since completing her apprenticeship, she earned herself a full-time contract. More recently she was promoted to the role of Payroll Manager. This speedy rise demonstrates her determination and work ethic and as a team, we're incredibly proud of just how far she has come. Whilst she is no longer an apprentice, she was our first apprentice. Ashleigh has demonstrated not only how beneficial apprentices can be for a business, but also how rewarding it can be as an employer.
We spoke to Ashleigh about her experiences as an apprentice and any advice she has for those looking at apprenticeships.
Why did you choose to do an apprenticeship?
I chose to do an apprenticeship because I wanted to gain first-hand experience in the industry whilst studying for my qualification. Earning money on top of this was a bonus too!
What do/did you enjoy the most about your apprenticeship?
I liked the diversity in the way that I learned. Doing an apprenticeship allowed me to learn from my colleagues and apply the knowledge in real-time, whilst still being able to attend college and learn within the classroom environment.
I was lucky enough to have managers who were incredibly supportive of my development. They allowed me to experience different roles within the company until I found the position that suited me best.
What advice would you give to someone thinking about doing an apprenticeship?
Do it! Most industry's offer apprenticeships at a variety of levels and it gives you valuable experience that you won't get from a full-time college course.
What advice would you give to employers when taking on an apprentice for the first time?
Prioritise development. Once your apprentice is comfortable within their role, allow them to try new things and diversify their skills – they might find an interest in an area they hadn't considered before.